Saraburi Factory
TPC main factory where indoor and outdoor plants along with QC lab.
Precast Tilt-up Wall
The very first pilot project in SEA.
APL
TPC's façade works are overwhelmed.
ICONSIAM
TPC's pc wall there against strong wind from Chao Phraya river.
India Temple
Significant place where TPC's cool wall and GRC meet.
Precast concrete is reinforced concrete constructed by industrialized methods. It is characterized by dividing the building into components, which are manufactured in a precast concrete plant, and transported by special transportation equipment to the site.
Precasting reduces construction time because the manufacturing of the elements is carried out beforehand. Precast concrete is reinforced with either reinforcing bars, strands with high tensile strength, or a combination of both.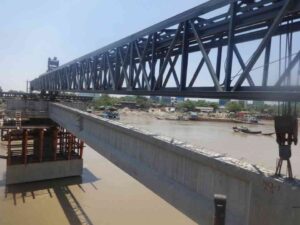 TPC's know-how knowledge about lifting multi-ton weighted precast beams and industry based experience about various precast beam launching system are always play in leading role
Read More »